Golf Coaching - Guy Shoesmith PGA Qualified Level 111 Coach £28 1/2 hour Game Improvement Programme £140 (6 1/2 hour sessions) Club Fitting We provide a full club fitting service. Everyone is welcome to a free, no obligations session with a PGA professional to try the latest woods, irons, rescue woods, wedges or putters and receive advice as to which clubs are right for you. Just telephone us to arrange your free appointment.
Guy Shoesmith - Head PGA Professional
Guy has been the head professional at West Hill since 2005 and a member of the Professional Golfers Association since 1995. As well as serving as a PGA coach over those years he has also been trained to "coach the coaches" and has worked for the PGA as a Swing Tutor and Assessor in training and examining PGA Trainees in their Level 1 and Level 2 PGA coaching exams. He played on the European Challenge Tour in 1996 and 1997 before becoming a Club professional.
---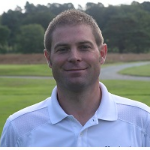 Greg Middleton - Head Assistant Professional
Bio to follow….
---
---